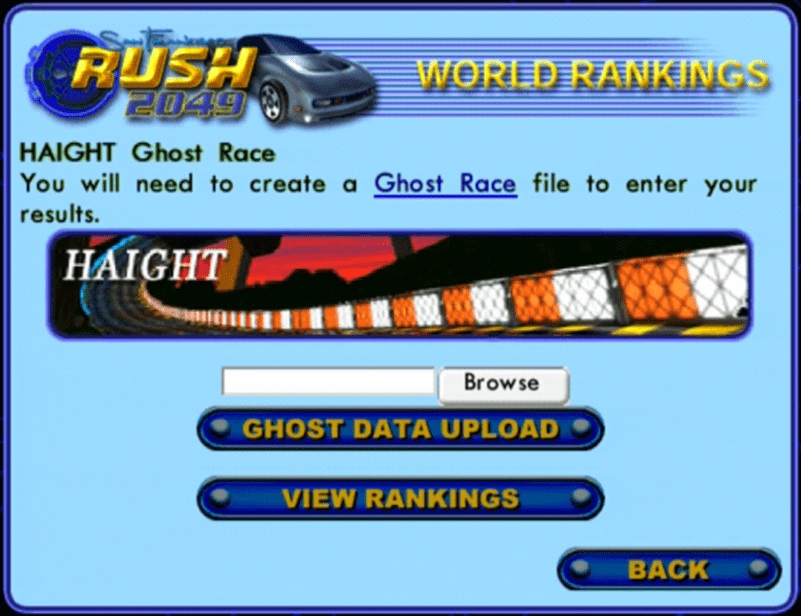 Do you like San Francisco Rush 2049 and also like prizes? Well you're in luck! In honor of the recent revival of the Rush 2049 website, Dreamcast Live is hosting a competition in which you can win fabulous prizes! All you have to do is upload your best 3-lap time for the Haight track. The first and second place times will get their choice of one of the Steam codes below. In addition, the first place winner will earn a plaque in the Hall of Champions and be immortalized for all eternity!
How to enter:
1. Try for your best 3-lap time in Ghost mode on the Haight track using the Bruiser car. 
2. Save the ghost file to you VMU after you finish (9 blocks required) and then head to the website from the main menu. 
3. Once at the website home page, log in using a SegaNet account (you can make one here). 
4. Finally, upload your ghost file in the rankings section.
All entries must be submitted by September 10th, 2018. The winners will be contacted via the email address associated with your SegaNet account. The first place winner will have first pick of the prizes and the second place winner will have their choice of the leftovers. Good luck to all!
Update: The results are in! Congratulations to AKa_47 who won with a time of 4 minutes and 2.094 seconds! Indiket was very close behind with a time of 4 minutes and 2.838 seconds! Some excellent racing skills exhibited by both for sure!