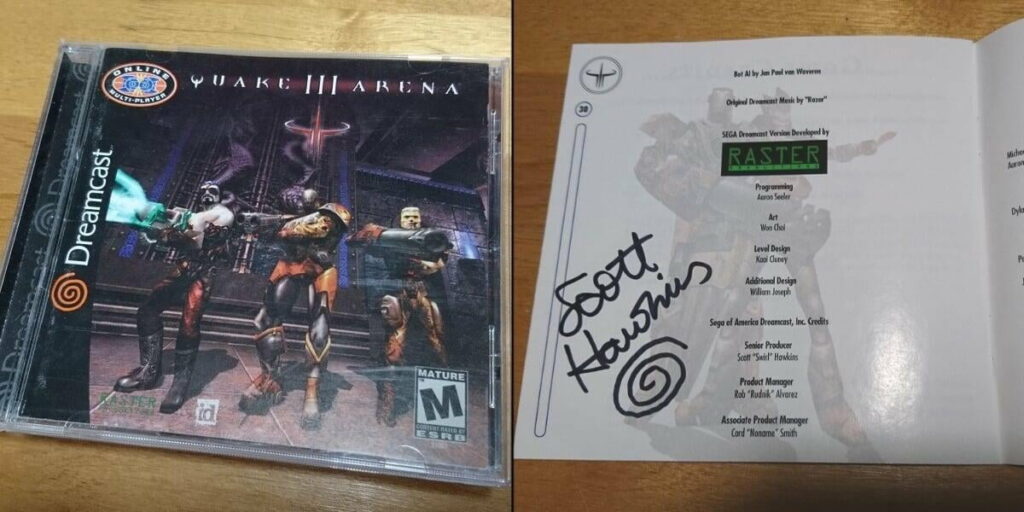 Boy do I have an extra special giveaway for you guys this month! At first glance it may seem like you're ordinary, everyday copy of Quake III Arena. But no! No I say! This is a one-of-a-kind copy of the game signed by Scott "Swirl" Hawkins himself, who is the game's producer and also (as you may have guessed from the nickname), the creator of Sega Swirl. Scott, being the amazing guy that he is, was kind enough to sign the manual for the game and even signed my own copy of Sega Smash Pack as well. No you can't have it! It's mine! 😛 You can however have this signed copy of Quake III Arena if you're lucky enough to win it. If you do, you'll be the only one in the world with a producer-signed copy of the game! Well at least I assume anyway.
If you'd like to enter for a chance to win, simply leave a comment below and make sure you include a valid email address in the "Email" box. Just for fun, let me know what other Dreamcast game you would love to have signed and by whom. The winner will be chosen one week from today (June 17th). Good luck!
Update: The winner has been chosen! Congratulations to ReaderRagfish!