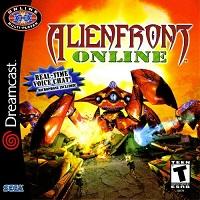 It's the first giveaway of 2018 and it's a good one! This month you have a chance to win a copy of Alien Front Online! Ranked #3 in this year's Top 5 Online Dreamcast Games list, AFO is a must-have for any online Dreamcasters! GIANT ROBOTIC ALIEN SPIDERS! Are you excited yet? No? How about tanks, destructible environments, nuclear bombs, and real-time (sort of) voice chat?! Yeah, that's the stuff! I guarantee you'll have a bucket-load of fun if you win this gem or you'll get a full refund of the $0 you payed for it!
If you'd like to enter for a chance to win, simply leave a comment below and make sure you include a valid email address in the "Email Id" box. Just for fun, let me know which side you're on, alien or human? The winner will be chosen one week from today (January 17th). Good luck!
P.S. Sorry for the generic cover art picture but I don't have the actual prize copy in my possession yet. Not to worry though; I'll have it before the winner is chosen.
Update: The winner has been chosen! Congratulations to scaryred24!