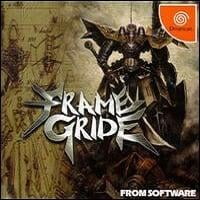 Free game! Get yer' free game here folks! This August's giveaway is here and this month you have a chance to win a copy of the Japanese-exclusive Frame Gride! Long before Demon's Souls and Dark Souls, From Software released a mech fighting game exclusively for the Dreamcast! As you might have guessed from its inclusion in a Dreamcast Live giveaway, it featured online multiplayer! That's right, you and a friend could enter the internet-connected mech arena and battle it out for mech superiority! Clearly this is what the internet was made for! This is currently another game currently resting in the online graveyard but one day it will rise from its grave, much like the Altered Beast!
If you'd like to enter for a chance to win, simply leave a comment below and make sure you include a valid email address in the "Email" box. Just for fun, let me know what your favorite game involving mechs/robots is. The winner will be chosen one week from today (August 17th). Good luck!
P.S. The actual prize copy of the game has yet to arrive from Japan, so for now, enjoy the generic cover art scan above.
Update: The winner has been chosen! Congratulations to ghosto95!