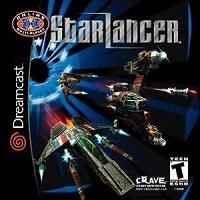 Developer: Digital Anvil
Publisher: Crave Entertainment
Released: November 22nd, 2000
Connection: Modem
Max Players: 6
Official Server Shutdown: May 31st, 2014
Server Revived: April 27th, 2015
Hosted by:
Shuouma | 146.185.135.179
Features:
Multiplayer, Text Chat
Manual | Server Status | Leaderboard
Description
---
From Erin and Chris Roberts, the award winning designers of Wing Commander comes a game beyond the reaches of your imagination. Battle for control of the galaxy as a member of the elite 45th Squadron or take on your friends in epic, multi-player deathmatch battles. With every hour, the Coalition grows stronger, and the fall of the Alliance is at hand. Fight for freedom! The 45th Wants You!
Choose from more than a dozen ships and over twenty devastating weapons.
The Starlancer 3-D engine provides unparalleled fluidity of gameplay.
Online gaming for up to six players.
Dynamic missions influence the central storyline.
Screenshots
---
Gameplay
---
Reviews
---
0 out of 5 stars (based on 0 reviews)
---
There are no reviews yet. Be the first one to write one.