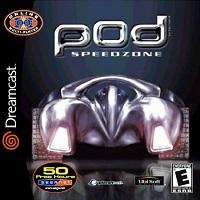 Developer: Ubisoft
Publisher: Ubisoft
Connection: Modem, Broadband
Max Players: 4
Server revived: October 13th, 2017
Hosted by:
Shuouma | 146.185.135.179
Features:
Multiplayer, Text Chat, Leaderboards
Description
---
Slip onto SegaNet and blast into POD SpeedZone, the fastest arcade racer for your Sega Dreamcast online. Pilot 8 futuristic cars across 6 surreal, mercilessly interactive tracks. Hone your maneuvers and master the weapons offline – then prove your racing chops in the POD online circuit. Get fast – before the SpeedZone leaves you in the dust.
Online multiplay: Join or create 4-player races on SegaNet.
Ruthless Tracks: Rush through multi-layered courses loaded with cunning traps.
Power-Up Frenzy: Level opponents with arcade-style weapons and boosts.
Bonus Race Modes: Ghost and Thriller, where the last man dies and YOU start last.
Screenshots
---
Gameplay
---
Reviews
---
5 out of 5 stars (based on 1 review)
---
Ubisoft Masterpiece
Fantastic and funny racing game with some elements of Vigilante 8, Twisted Metal and Crash n Burn! Try it out!