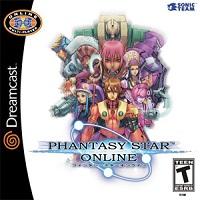 Developer: Sonic Team
Publisher: Sega
Connection: Modem, Broadband
Max Players: 4
Server revived: December 17th, 2003
Hosted by:
Dreamcast-Talk | 100.10.60.68
Sylverant | 138.197.20.130 (Master)
Features:
Multiplayer, Text Chat, Messaging, DLC
Description
---
Pioneer 2 finally completed its long voyage to the new home world. But as the ship entered orbit, an enormous explosion shook the entire planet, and all contact with the thousands of people already there was lost. Now, in the first worldwide online console RPG, players from around the globe must unite to discover what has happened. Phantasy Star Online continues in the tradition of one of the most popular series of all time, and becomes a revolutionary and truly global gaming experience in an online, persistent world.
Located team members on servers that each support up to 1,000 players simultaneously.
Real-time combat featuring many of the original weapons and enemies from previous Phantasy Star games.
Revolutionary communication system breaks down language barriers.
Create your own character by modifying race, profession, body proportion, hair, outfit, and more.
Play online, offline, or a combination of both.
Screenshots
---
Gameplay
---
Reviews
---
5 out of 5 stars (based on 5 reviews)
---
The Dream Come True
So incredibly worth playing online for and chatting with people online. As soon as I booted into the lobby, I wanted to hold back tears of joy. If anyone is curious about getting into and joining the Dreamcast Online community, you owe it to yourself to experience it.
Easiest Online Dreamcast Game to Get Into
I love PSO! Since I was a kid I wanted a dreamcast and remember wanting to play this game very fondly. Well 2020 is here and I finally picked up a dreamcast, dreampi and a copy of version version 1 and was in! No extra patcher needed, no DMZ, nothing. First, I tried offline mode just to get a hang of the controls and understand the gameplay mechanics, which I strongly recommend – although it's much more difficult offline because there's no one to help you or heal you. On my first night playing I met a bunch of cool people who were all super helpful and friendly. I chose to be a Hunter, but there are other races as well with different specialties and weapon types. After a few days of playing V1 I quickly realized most people play V2 and burned myself a copy of the PSO Ives Pack. V2 is the exact same game as V1 but just with more levels, items, and other fun stuff! Last recommendation is to get a Dreamcast keyboard to play this game as it makes chatting with people and planning the game much easier.
The best online Dreamcast game, as well as one of the best offline Dreamcast games.
Phantasy Star Online Version 2 is by far my favorite game on the SEGA Dreamcast. Offline, the game has a unique story mode and quests to keep the player entertained. But the real fun starts when you go online. With about 15-25 active players on during peak, it is the most active game in the Dreamcast community. And for good reasons: the game has hundreds of hours worth of grinding, exclusive quests, free roaming, and additional content like Challenge Mode and Battle Mode.
After over 130 hours of online play, I still haven't scratched the surface of this amazing game. If you own a Dreamcast and have the means to get it connected to the Sylverant server, I highly recommend this game.
awesome game!
A awesome game you can chill out and play and also is challenging and is a great game to socialize with other players.
The Best MMO Ever
PT-BR:
Nem acredito que serei um dos primeiros a escrever sobre um dos meus jogos favoritos. lol
Este jogo é simplesmente fantástico. Possui uma mecânica fácil de se entender, e viciante. Você consegue aprender rapidamente como jogar. Possui esquemas de menus simples, sólidos, e de rápida compreensão.
A melhor parte é que ele funciona online para jogadores de todo o mundo. A comunidade de PSO é fantástica. Você sempre encontra pessoas online, a comunidade está sempre disposta a cooperar uns com os outros.
Este jogo é garantia de muita diversão tanto no modo offline, quanto no modo online.
EN:
I can't believe I'm going to be one of the first to write about one of my favorite games. lol
This game is just fantastic. It has an easy to understand and addictive mechanics. You can quickly learn how to play. It has simple, solid, and quick to understand menu layouts.
The best part is that it works online for players from all over the world. The PSO community is fantastic. You always meet people online, the community is always willing to cooperate with each other.
This game is guaranteed to have a lot of fun both offline and online.