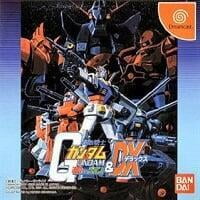 Developer: Capcom
Publisher: Bandai
Connection: Modem
Max Players: 4
Server revived: June 5th, 2020
Hosted by:
Shuouma | 146.185.135.179
Features:
Multiplayer, DLC, Text Chat, Messaging, User Created Content
Manual | Server Status | Leaderboard
Description
---
For years, you've watched the conflict. Now you must make a choice. Who will YOU be: Commander of the imperiled Earth Federation, or leader of the notorious Zeon Forces? Choose your side, then prepare for the fight of your life, in Mobile Suit Gundam: Federation vs. Zeon. Japan's "Famitsu" magazine bestows on Federation vs. Zeon a Gold award, proclaiming it "…great! It's easy to control, and exactly the same as the arcade game, with even more features!"
VOICEOVER performed by the actual television series actors!
SPLIT SCREEN ACTION for HEAD-TO-HEAD, ARCADE STYLE BATTLE!
ONLINE BATTLES with up to 4 players!
CHOOSE YOUR SIDE! Play as a Federation or a Zeon pilot.
AWESOME CAMPAIGN MODE: Over 200 missions for hours of replay.
NEW OUTER SPACE COMBAT! Take full advantage of 3D environments with fast and furious battles in outer space!
RESPONSIVE CONTROLS and highly details characters make the action REAL!
AWARDED a GOLD AWARD by Japan's Famous "Famitsu" Magazine!
Screenshots
---
Gameplay
---
Reviews
---
5 out of 5 stars (based on 3 reviews)
---
Very competitive
Game is full of adrenaline nice to play such a great game with friends love this game.
Addictive, surprisingly complex and just plain fun!
Don't let the Japanese text get in the way – this is a fantastic mech battle game, much in the line of Virtua On. Use the guide on this site to talk you through the steps and after a few times, the connection process becomes second nature. With a little practice, and finding a favourite mech, you'll be blasting with the best of them!
A few tips for you all:
1) Many people forget about dodging – you can do this by double tapping in any direction. You can also do this while jumping. This can be used to execute my favourite attack – the mid-air melee! Just jump, dash and then melee to stealthily take down an opponent!
2) Conserve your shots, particularly when an opponent is down. There's nothing worse than having an opportunity to snipe before realising you're temporarily out of ammo.
3) Just avoid the space map. Nobody likes it 🙂
Shooty shooty bang bang.
It's fine to shoot my friends online.