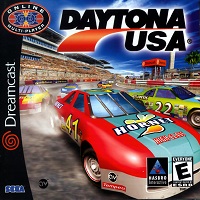 Developer: Genki
Publisher: Sega
Released: March 12th, 2001
Connection: Modem
Max Players: 4
Official Server Shutdown: May 11th, 2002
Server Revived: July 14th, 2023
Hosted by:
Ioncannon
Features:
Multiplayer, Text Chat
Manual | Server Status | Leaderboard
Description
---
Start Your Engines!
DAYTONA USA delivers the blistering speed and bumper-crashing action of stock car racing and takes it online. Download driving records and develop your racing strategy against a ghost car, then compete in networks rankings. With exclusive new racing circuits and secret unlockable vehicles, DAYTONA USA provides an incredible racing experience every time you put the pedal to the metal.
Compete online with up to 3 other players, or go head-to-head in split screen action.
8 racing circuits; including 5 popular circuits from past Daytona games and 3 exclusive new circuits for Dreamcast!
View performance rankings, or download competitive driving records and ghost cars to practice against.
Experience the heated thrills of white-knuckle racing with up to 40 cars on the track!
Screenshots
---
Gameplay
---
Reviews
---
0.0 out of 5 stars (based on 0 reviews)
---
There are no reviews yet. Be the first one to write one.